To make your life easier, we've curated a list of seven of the best floating party docks at various price-points.


If you have access to the water and want a portable or semi-portable floating dock, then you are at the right place to find out about the best ones.
Sometimes you just want that floating dock that will be out further from the shoreline to sit on and sun, or you want a launching pad for fishing or swimming. Maybe you don't have the money to sink thousands into a permanent dock or your lake or pond doesn't allow permanent docks. A portable floating dock is the best alternative!
Let's get floating!
Image
Title
Rating

***TOP PICK***

Tower Inflatable Floating Dock 10' X 5'
Today's Price
BOTE Inflatable Lake Float For Adults | Floating Island – Dock – Raft For Pool & Beach 10 X 10
Today's Price
BOTE Inflatable Lake Float For Adults | Floating Island – Dock – Raft For Pool & Beach 7 X 7

Today's Price
Island Hopper Patio Dock 15 Foot Inflatable Swimming Water Platform
Today's Price
Island Hopper 13′ Bounce N Splash Padded Water Bouncer
Today's Price
Island Hopper 20 Foot Water Walk Floating Foam Water Mat – Super Buoyant – Triple Layered – Mesh Reinforced
Today's Price
Sea-Doo 8 Person Inflatable Mega Island Lake Float W/ 4 Speaker Music System
Today's Price
Tower Inflatable Floating Dock 10′ X 5′ – Water Lounge – Swim Platform Step – Easy To Inflate And Store Review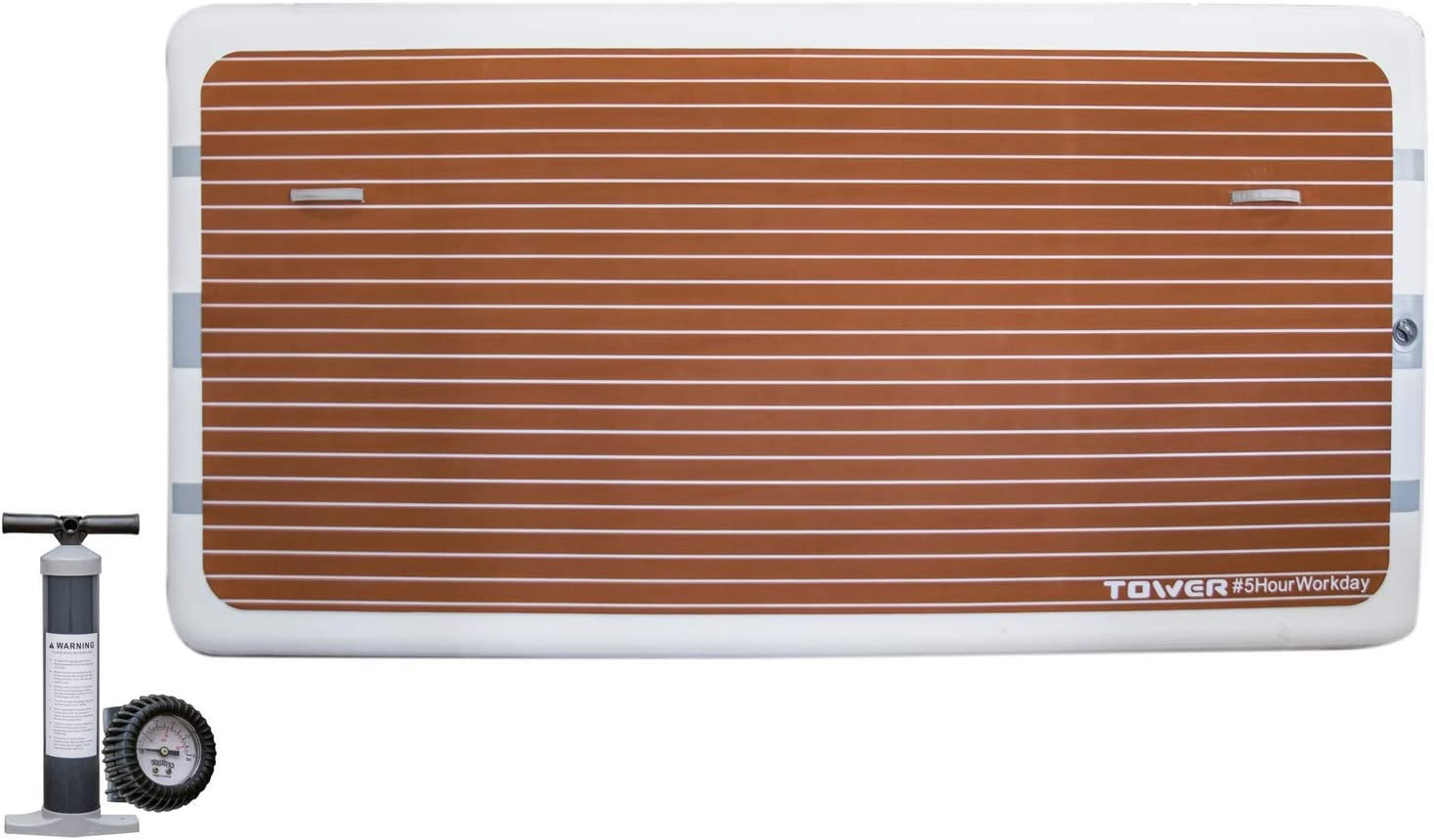 This floating party dock takes the cake! It is extremely sturdy, made of military grade PVC using drop stitch technology, using tens of thousands of tough polyester threads that enables inflatables with flat surfaces to be inflated to rock-hard rigidity. This results in a hard-shell performance along with the easy transportation and storage of an inflatable. The EVA foam used brings cushioning, resilience, insulation, resistance, buoyancy, and durability.
The portable dock platform is easy to get on and maneuver. It is called the Swim Step, because of how it also helps to get in and out of the water when no other easy way to do so is possible. The surface is non-slip and does not retain heat so laying or sitting directly on it is comfortable.
Pros
Made with PVC construction and drop-stitch technology
Flat and rigid, keeping valuables safe from easily sliding off
Easy to tow behind a boat
Inflates fast with included hand pump
Includes extra handles if needed
Can accommodate up to 900lbs so good if needing it to hold some equipment, coolers or a few people!
Cons
Cannot accommodate large numbers of people at once

BOTE Inflatable Lake Float For Adults | Floating Island – Dock – Raft For Pool & Beach 10 X 10 Review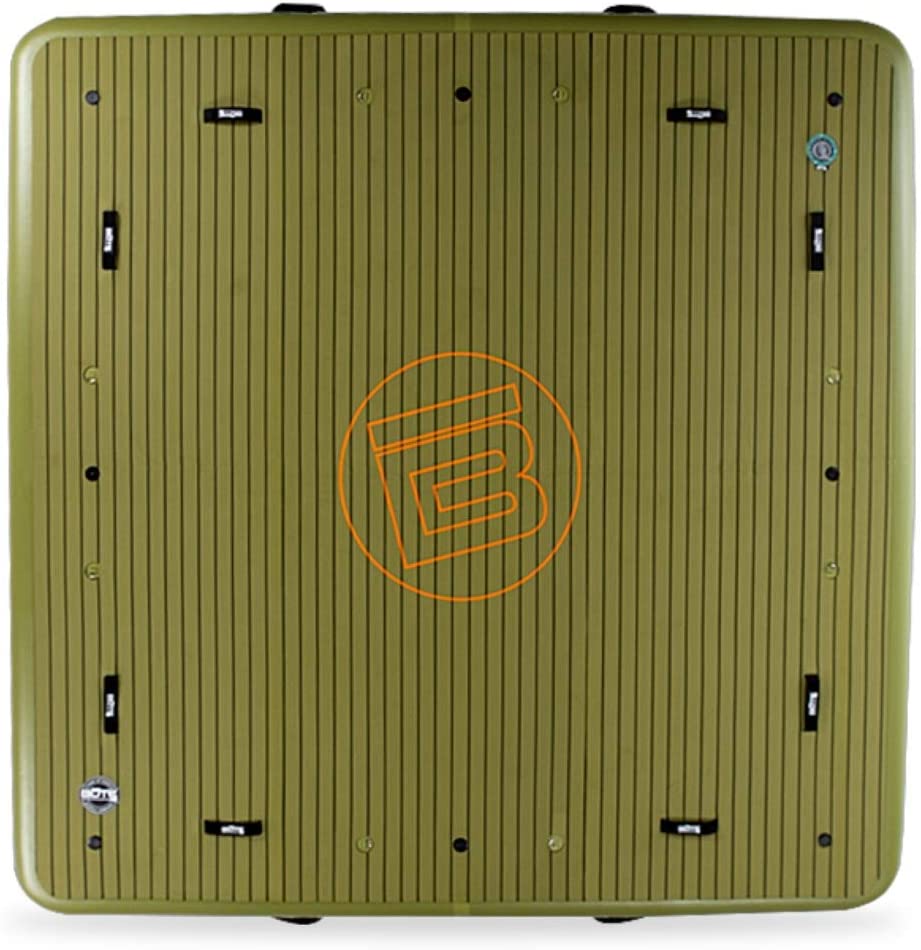 Want a stable, 100 sq. ft. of floating party space on the lake or ocean? Then the 10 x 10 BOTE Dock is the best choice for you! It is the largest of the floating inflatable docks and swim platforms offered by the company. It is portable enough to throw in the back of your car, inflate and put in the water.  When it is time to leave, just deflate it, pack it back in its "burrito wrapper" and throw it back in the car! It is easy to have a lake party when you have an inflatable dock to take wherever you want to go. And if your friends have one too, you can link them together. Get the inflatable chairs, or use your own chairs, the BOTE cooler or your own.  And, to make inflating quicker, upgrade to the electric pump.
The Bote dock works great near or on a sandbar or on the lake or ponds to have a remote location on the water. It's sturdy enough to hold a small grill, chairs for relaxing, laying on the deck for sunning, for the kids to jump on and off, and teen or adult parties (with a tethered cooler easily accessible) – the opportunities are endless. It's high and dry enough to read a book and not be afraid of a wave.
The platform has a lot of grab handles that make it easy to tie and throw and anchor, tie up to a boat or dock, tie down the cooler or chairs. It is an anti-slip flooring deck pad and cushioned.
It is constructed to be extremely durable using military-grade PVC that prevents scratches and dings. It also can handle up to 1050 pounds on deck.
A repair kit is included in case of rip or puncture of the inflatable portion.
Pros
Easy to clean and store.
Easy to set up and very durable.
rigid for an inflatable and can hold multiple people at one time
It is also the perfect beer pong table, bar, and tanning float that keeps you and your drinks dry!
60 day guarantee and 2-year limited warranty
Cons

Enjoy Your Water Time with a Portable, Inflatable, Floating Party Dock
We hope by now you have narrowed down your shortlist with the help of our reviews of the best floating party docks in 2020. Which dock will work best for you depends upon how many people you have in your family, or how many friends will be joining you on your trips to the lake, pond, or ocean.
While EVERY dock on this list is good, we're confident you'll find the perfect floating party dock for your needs right here on our list.
If you want to read in more detail about a few of the portable docs, you can find more extensive information on our blog by clicking on any of the links below. I just want to thank you for stopping by and hope these reviews have been helpful!  🙂