The 10 x 10 BOTE Dock is the larger sibling of the 7 x 7 sq ft. floating inflatable dock and swim platform. Although a bit more expensive, it is worth the money if you want plenty of room for a group. Whether at the lake, ocean, or river, the stability of the platform makes this the most highly desirable portable floating dock on the market. The construction is solid and is made to be able to connect several together. They can be left in the water if necessary, and moved around to where it is most convenient. The hand pump included can be upgraded to an electric pump. Bote offers inflatable chairs, as well as a cooler that rivals the best around.  See the diagram further down the page to see the dimensions and everything that can fit on or beside this incredible, floating, party dock.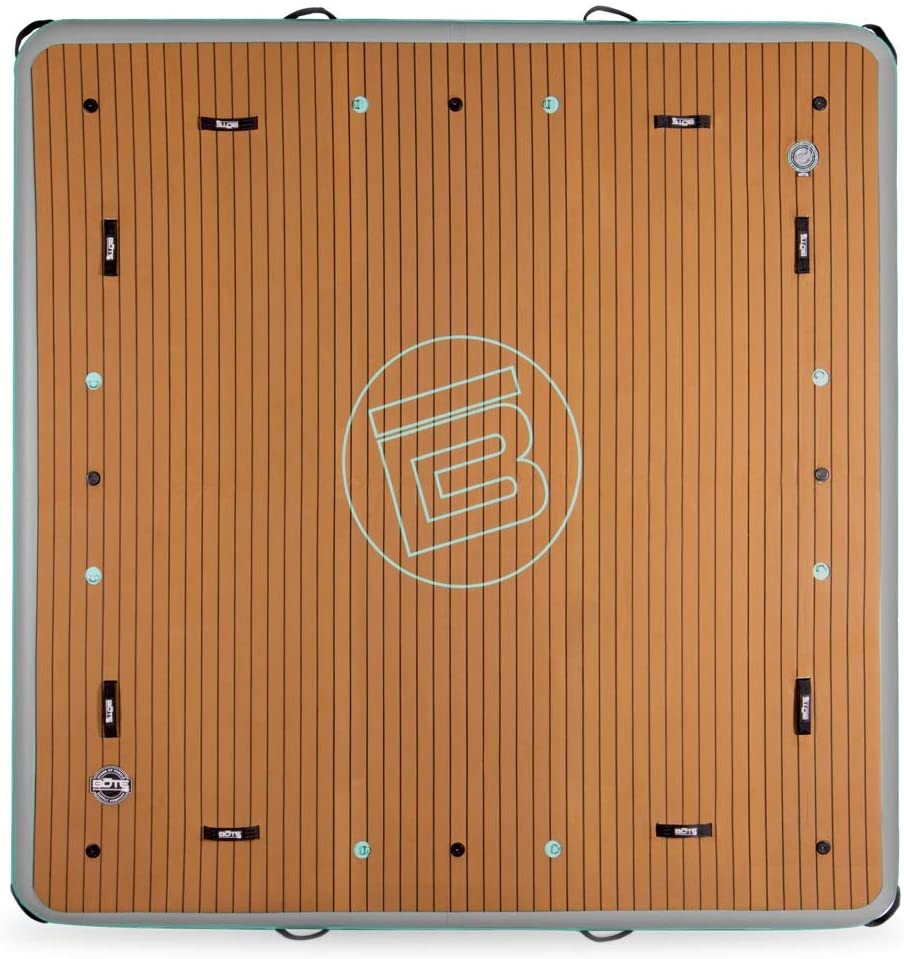 DID YOU SAY PARTY DOCK?
How much space is needed for a floating party? Deck space of 100 sq. ft. should be plenty of room for a lake or beach party. The 8 inches of height also keeps you and your belongings afloat. Bote tested the dock to try to include everything you need to tie down, sit down and dive off.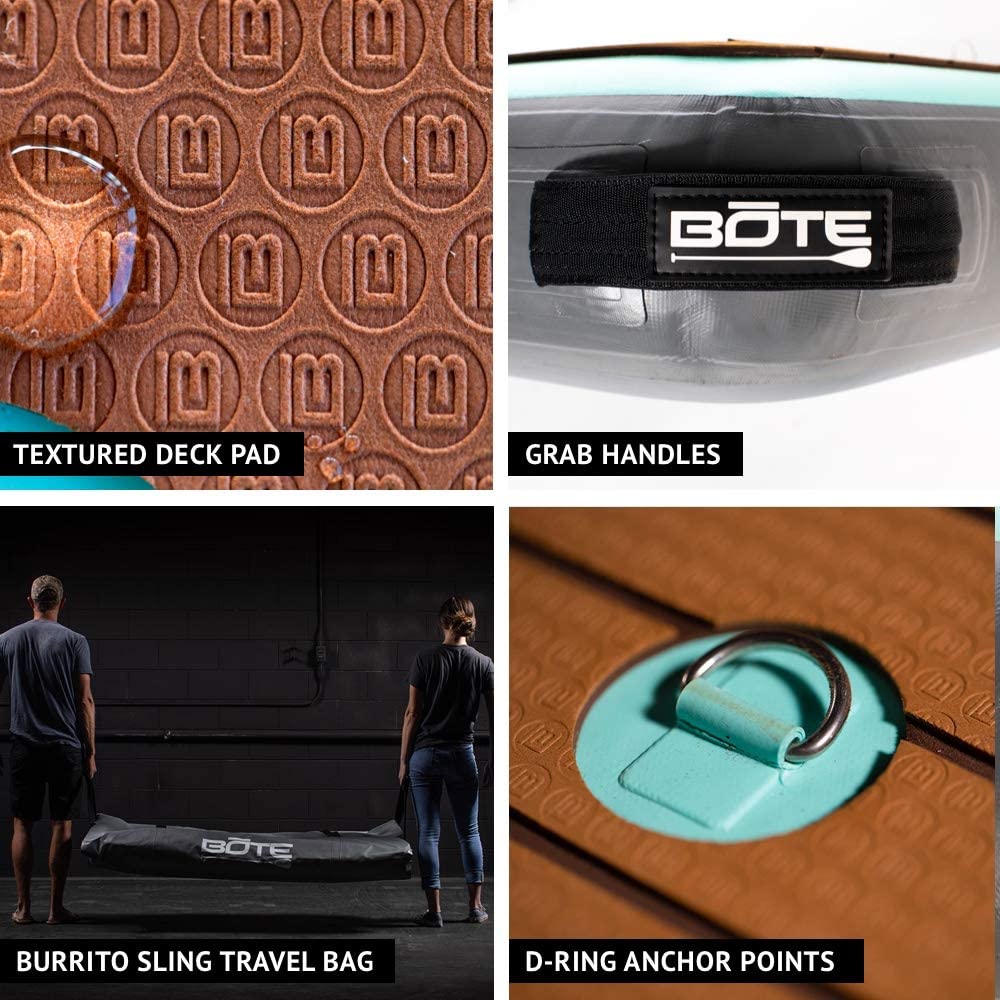 CARING & STORING
The floating dock is packaged in what is called a "burrito wrap." It is ridiculously easy to inflate the Bote dock to get it on the water, as well as deflate to tote away and store. Once the deflated, folded dock is removed from the burrito wrap, unfurl it, attach the pump hose to the inflation valve and pump it up.
For the best balance and stability, inflate the dock to no more than 10 PSI. Once inflated, it is time to launch!
When you are ready to pack up, release the air via the valve, fold it up and pack it into the burrito slipcover. It is important to not store your floating dock in direct sunlight.
WARNING: Misprint on Dock valves. Do not inflate above 10 PSI.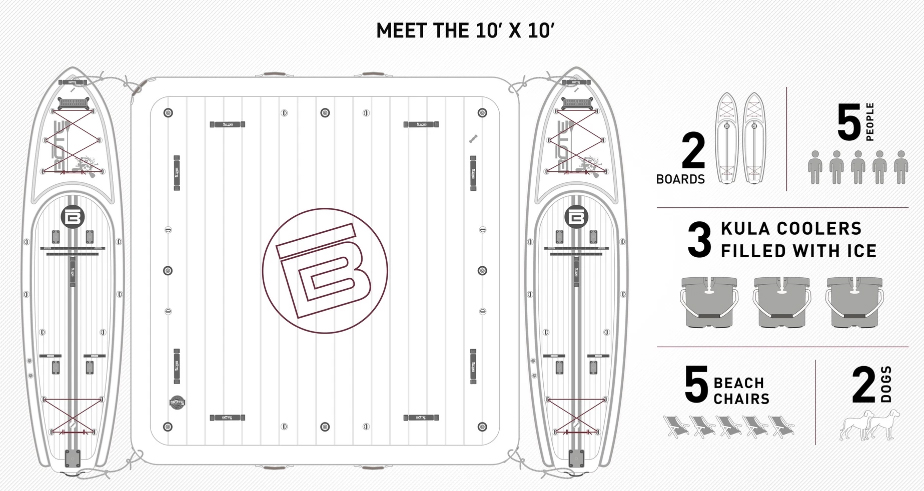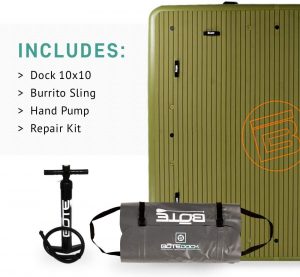 The Bote dock works great near or on a sandbar or on the lake or ponds to have a remote location on the water. It's sturdy enough to hold a small grill, chairs for relaxing, laying on the deck for sunning, for the kids to jump on and off, and teen or adult parties (with a tethered cooler easily accessible) – the opportunities are endless. It's high and dry enough to read a book and not be afraid of a wave. When ready to wrap it up, the dock folds up small enough to fit in the the car for easy portability. So, easy to inflate/deflate and store.
Key Features
VERSATILITY: Use it as floating inflatable dock to lounge or as a swim platform. Take it anywhere floating is needed – to the lake or a pond, float it off a beach, use it as a yoga platform, tie a few together to for more fun. The possibilities are endless.
CONVENIENT AMENITIES: Plenty of grab handles to easily maneuver or tie up to a nearby boat or dock, or anchor, a multitude of tie down points to secure a cooler or other gear, anti-slip BVA deck pad to provide cushioning, accessory mounting points allow for any 1/4:20 accessory attachment, and anchor points at each corner.
STORING & TRANSPORTING: Fold it up and slip it into the burrito sling bag for hassle-free storage and travel. Folded dimensions: 44″ W × 19″ H × 10″ D.
DURABILITY: The military-grade PVC skin is virtually indestructible preventing scratches and dings. 1050 LB capacity.
EXTRAS: sling bag for storage and transport, hand pump for easy inflating, and repair kit in case of a rip or puncture.
Pros
Less than 5 minutes to inflate with electric pump
5 minutes to deflate to store
Great for use on the lake
stays fully inflated all summer.
Easy to clean and store.
Easy to set up and very durable.
rigid for an inflatable and can hold multiple people at one time
It is also the perfect beer pong table, bar, and tanning float that keeps you and your drinks dry!
60 day guarantee and 2-year limited warranty
Cons
Final Recommendation
This is clearly our favorite out of all the floating party docks we've reviewed. For the price, it is portable, storable, easy to set up and take down. Not only that it is steady on the water and you can add the inflatable chairs and a cooler that matches the best on the market. Your electronic devices can stay dry, yet you can jump off and climb back on without everything sliding off.
Feel free to check it out at Amazon.com, and if you have any questions just ask and I will be happy to help any way I can!