Wow! The Island Hopper Inflatable Patio Dock is a so buoyant, with ridged decking, that can be used as an individual floating water platform or as an overflow water patio beside a boat, a dock, at the beach or a sandbar. This incredible dock gives you an 15' x 6' play area for sun bathing, swimming, wakeboarding, tube launching, and docking.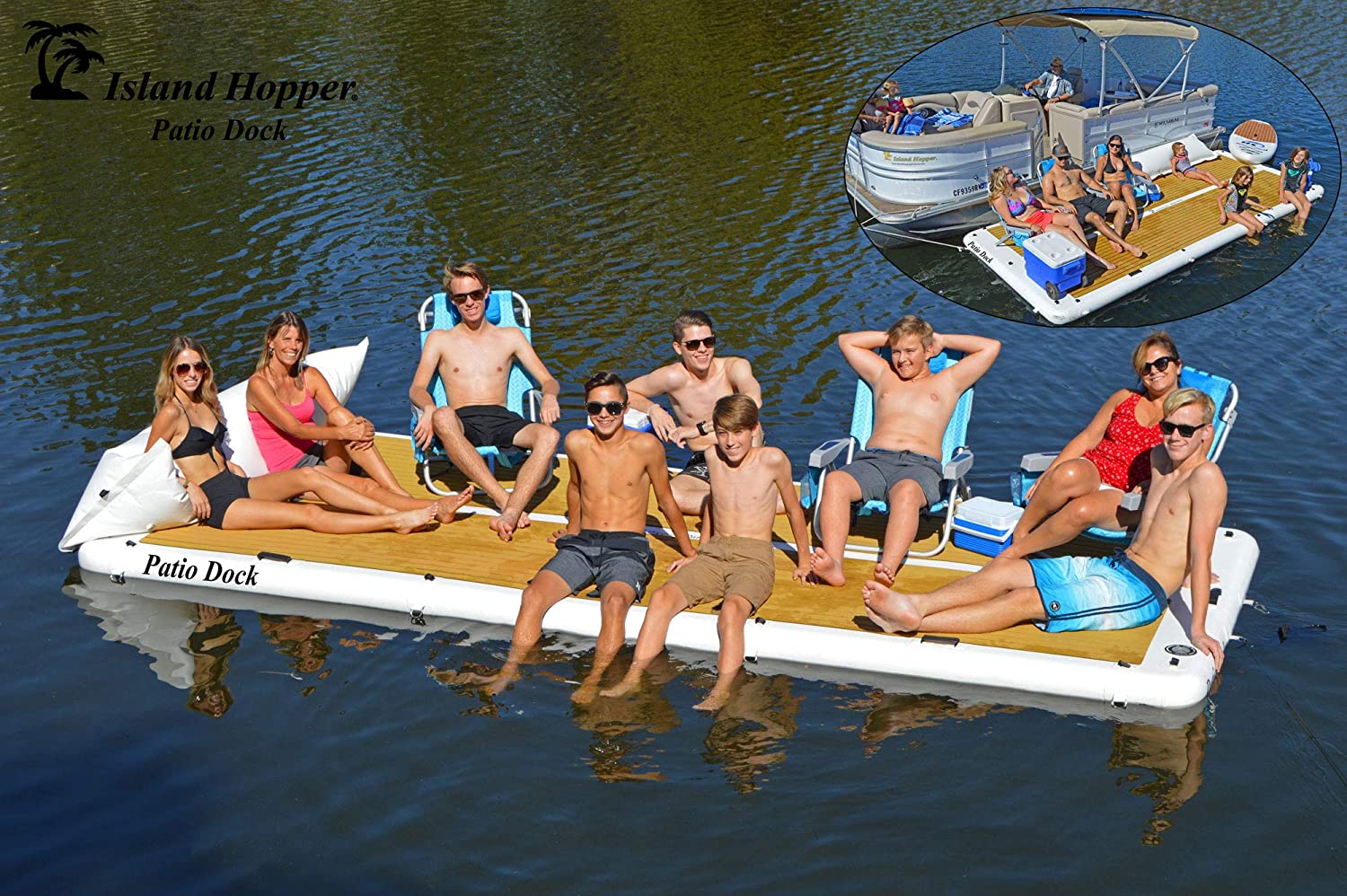 The Patio Dock can sustain just over 2000 lbs. for a perfect party of 10 friends but can be reduced in size for storage. The construction consists of a durable and soft EVA foam surface that is slip-free but is still easy to climb out of the water. The Island Hopper comes with 11 side d-ring connections to secure anchoring and facilitate tethering between boats. On deck, there's 12 strong web-loops to tie down  ice chests, lounge chairs, and toys. The platform is easily liftable using it six carry handles and can be tied off to the side of your dock, boat, or multiple other Island Hoppers.
To make inflation easy, the Island Hopper includes a 15 PSI auto-set portable power inflator with power port plug and a double action hand pump. The construction consists of a commercially rated 1500 denier drop stitch material with HEAT WELDED seams the same as top boating industry standards. Island Hopper Patio Dock offers a commercial industry best 5 year "No Blow Out" limited warranty.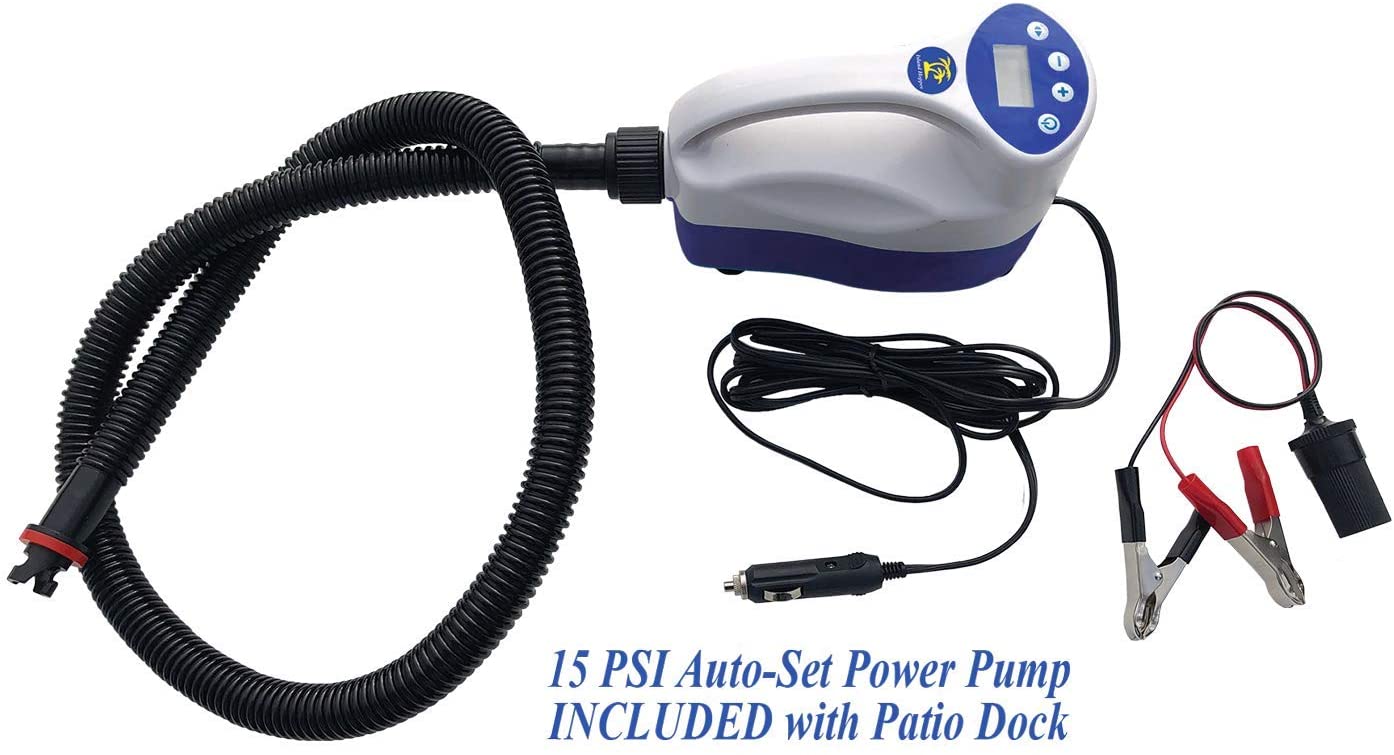 Key Features
15' X 6' x 6" Water Patio platform extension for your pontoon or sport boat. Perfect and manageable size for 10 or more friends and can comfortably handles over 2000 lbs. Used for sun bathing, swim play, wakeboard and tube launching, boat docking, floating dock, and any number of waters uses. Can be paddled like a giant stand up paddle board and anchored in place at a swim area.
Durable EVA foam surface is non-slip and has a soft feel. Connect multiple units to make an extended platform configuration. Features 11 side welded stainless d-rings, 6 carry handles, and 24 top & bottom welded web-loops for secure anchoring and holding accessories.
Product INCLUDES 15 PSI auto-set portable power inflator with 20" extend power cord ($129 value!). Plugs into both 12 volt options; cigarette lighter outlet and battery terminal clamps.
INCLUDES: Island Patio Swim Dock, 15 PSI auto-set electric inflator, double action hand pump, stow straps, instruction manual, and repair patches. Optional accessories sold separately: Inflatable Pillow and soft entry ladder.
Built to last! Industry best 5 year "no seam blowout" limited warranty. 30-day money back satisfaction guarantee.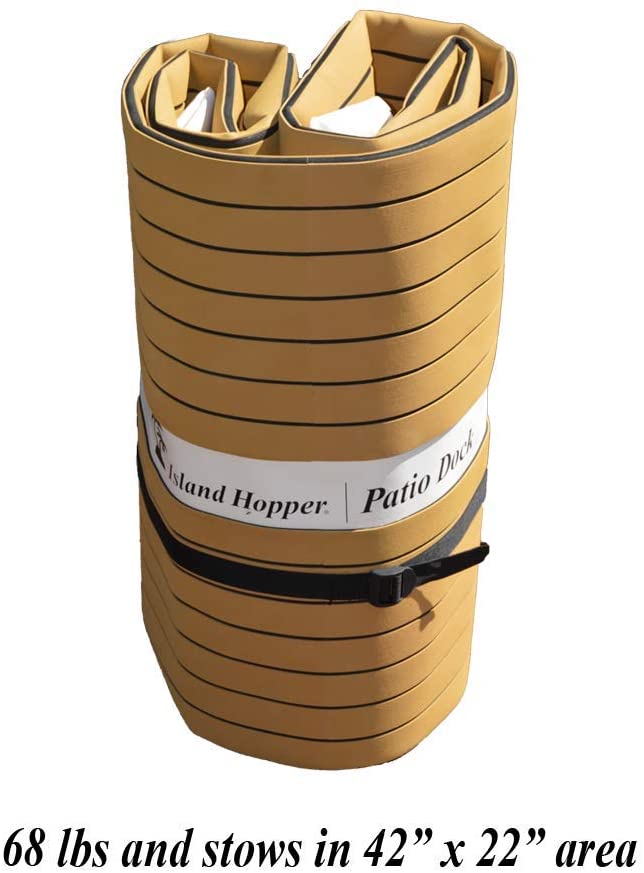 Pros
Commercial industry best 5 year "No Blow Out" limited warranty
Takes about 15 minutes to inflate
Can easily attach a ladder
Easily launch kayaks, canoes or paddleboards from the dock
Very stable platform that has been used even in mild seas
Comes with 2 PVC patches
Electric inflator pump is included
A comfortable, easily attachable inflatable pillow can be purchased
Cons
Has no easy capability to attach a canopy
Ladder is an additional option to purchase
Glue for patches must be purchased separately
Not meant for diving
Anchor is not included
Inflatable pillow is extra and hard to find to purchase
Additional marine grade lines may be needed
Final Recommendation
The Island Hopper is a great floating party dock that would be an asset to any water-loving person. It is only ranked third due to the fact that it sometimes tends to be a bit pricier than our other choices. However, it is also is portable, storable, easy to inflate and deflate. It includes an electric pump so you don't have to fork out more money for one that will inflate the dock quicker. It is fairly steady on the water, can accommodate up to 10 people. You can add the chairs, a cooler, a tent and a gril and with an anchor can hang out all day and night!  Your electronic devices will also stay dry, yet you can jump off and climb back on without everything sliding off.
Feel free to check it out at Amazon.com, and if you have any questions just ask and I will be happy to help any way I can!