This fun 13′ Island Hopper is both manageable and designed for hard use and longevity. It's spring-free, using interlaced nylon webbing "bouncing" design featuring tube flex to give the user an enjoyable "bouncer" lift with a sturdy trampoline feel. The Bounce N Splash Bouncer inflates and deflates quickly  and is very portable compared to a water trampolines. It is a wonderful addition to your lake or beach home, yet is perfect for camps, resorts and recreational facilities. Aqua Sports Technology stands behind this quality claim with the best warranty in the industry.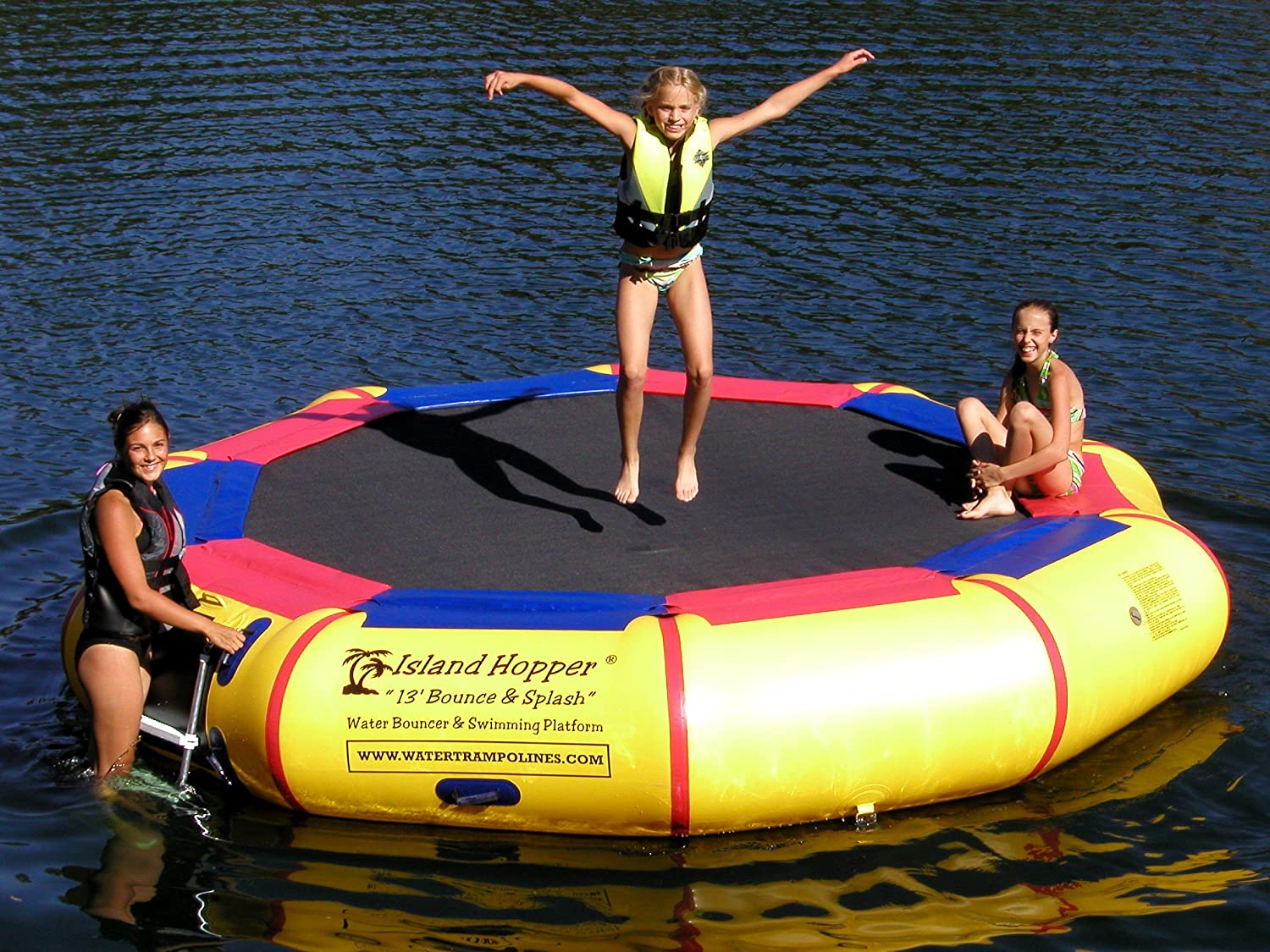 The bouncer comes with a 5-year seam "No Blow-Out" limited warranty on the 1000 Denier PVC material. Exclusive to this Island Hopper is a one-half foam perimeter padding for comfort and safety with heavy commercial construction. Maximum weight is 5 children or 1000 lbs. The six anchor-tie-D-rings (3 inside and 3 under tube) contribute to safety and secure mooring. A four-step "easy access" ladder with 12 swimming assist handles makes climbing onboard a breeze. The spring-less, interlaced nylon webbing "bouncer" design also includes a carry/storage bag, repair kit, and instruction manual. The bouncer dimensions are a 10' jump surface 36" height off the water. Additional attachments  available include a Gator Head, Gator Tail, Bounce N Slide, Double Blaster, and an Island Runner.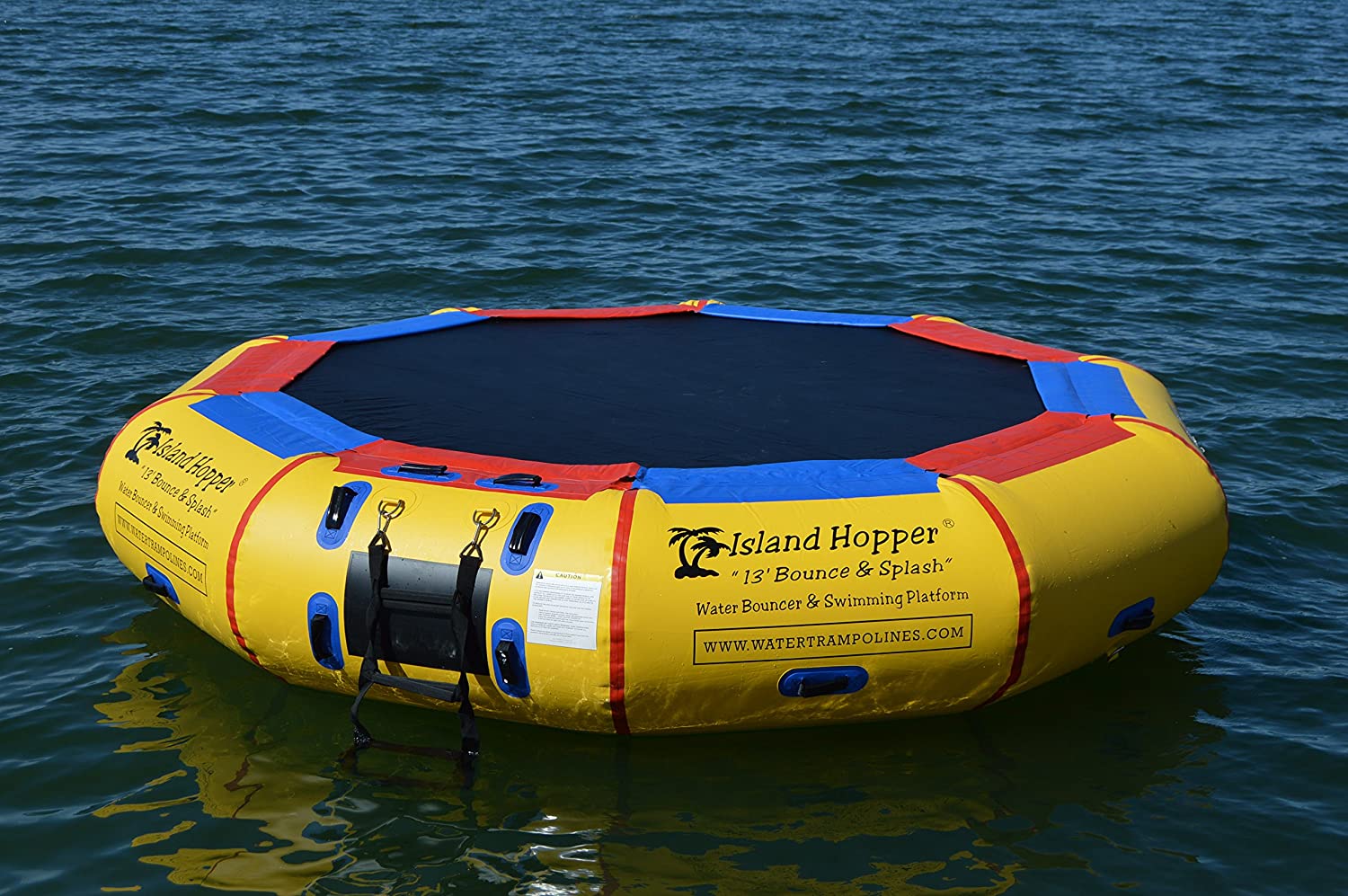 Key Features
13 ft water bouncer ONLY.
5 year-seam "No Blow-Out" limited warranty
Exclusive one-half foam perimeter padding for comfort and safety.
Heavy commercial construction using 1000 denier PVC material.
Spring-less, interlaced nylon webbing "bouncer" design.
Bouncer dimensions: 10′ jump surface & 26" tall tube up off the water.
Protective 0.5-inch foam perimeter padding (exclusive on Island Hopper Water Bouncers)
12 swimming assisted handles
6 anchor secure D-rings
4 step easy access soft ladder.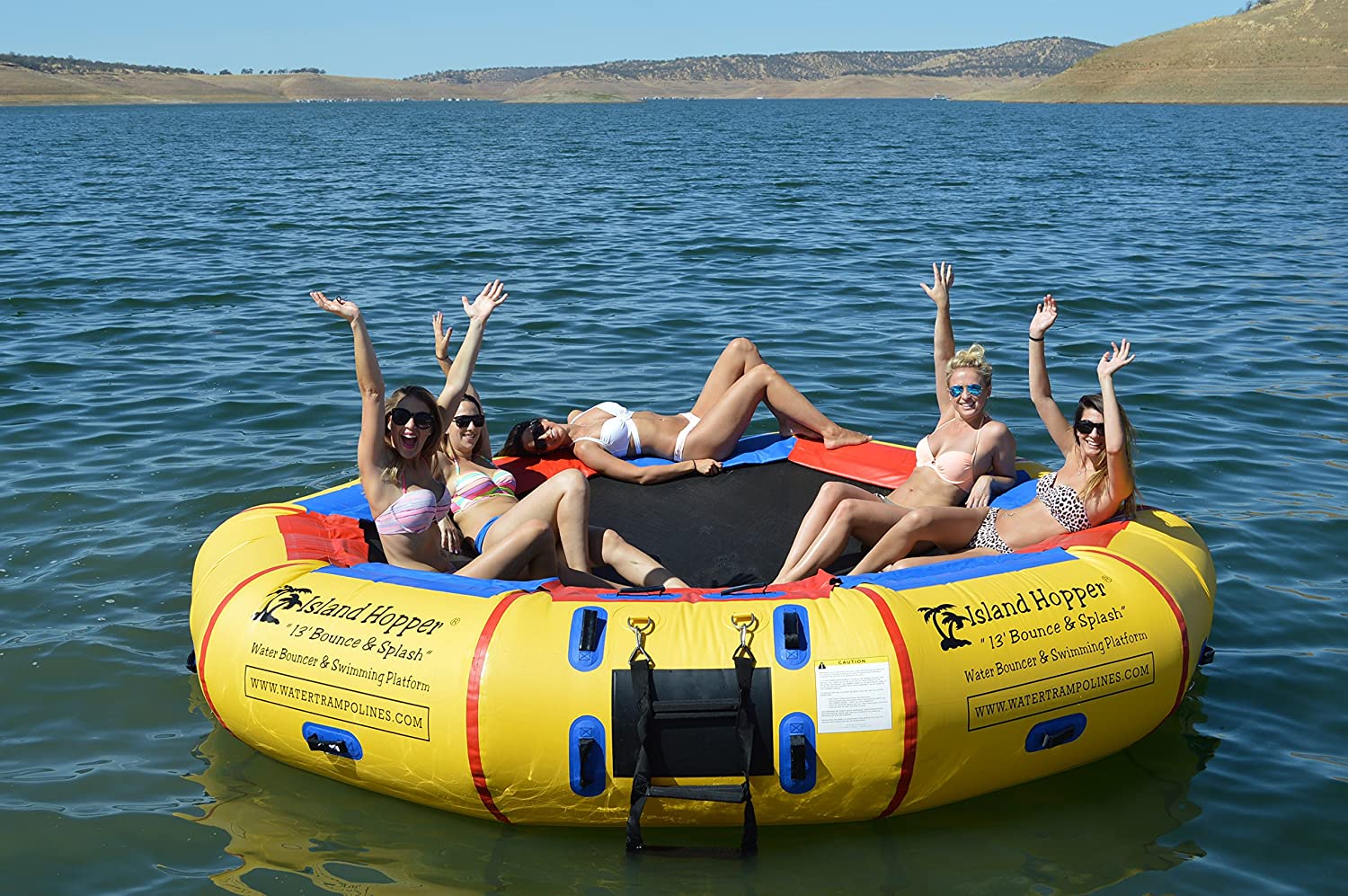 Pros
Can be inflated using a leaf blower, shop vac, air compressor, or foot pump
Blows up quickly even with a small pump
This is a high-quality product and is very well made
Easy to climb on and jump off
Great customer service
Large enough for several kids to play
D-rings can manage additionally purchased anchor
Designed for both fresh and saltwater use.
Cons
Cannot be used as a "water" trampoline
Might need the Island Hopper Aluminum ladder for larger kids and adults
Heavy to remove from water to store fully inflated
Does not include anchor
Manual pump included, additional electric pump recommended for quicker inflation
Additional marine grade lines may be needed
Final Recommendation
The 13′ Island Hopper floating party dock is more of a humungeous tube but can clearly hold several people and has a slide, a floating mat and other inflatables that can be tethered to make it a huge floating party island. It is portable, storable, easy to set up and take down. It's fairly stead on the water and if you want to add chairs and a cooler it will has the room. Your electronic devices can stay dry, yet you can jump off and climb back on without everything sliding off.
Feel free to check it out at Amazon.com, and if you have any questions just ask and I will be happy to help any way I can!