The Tower swim step, at 5′ x 10′ x 6", is an inflatable floating party dock that can be used as a boating extension, floating on the lake or ocean.  It is extremely sturdy and can easily handle a few chairs or people for sunning, fishing, or doing yoga. If you have the swim step beside a dock at a marina or where it is hard to easily get back on from a swim, it can act as easier access to climb back onto a boat or dock. With 6″ of depth, this inflatable, portable dock is very easy to hop on to and get out of the water. Two hand straps also aid in grabbing and getting back onto the dock.
The surface of the platform is remarkably flat and solid, making the swim step feel exactly like a traditional dock. The Swim Step has three handles to help you carry it when inflated, and four D-Rings that can be used to tow or to dock the platform to a solid surface. Two additional storage straps and a hand pump for inflation are included.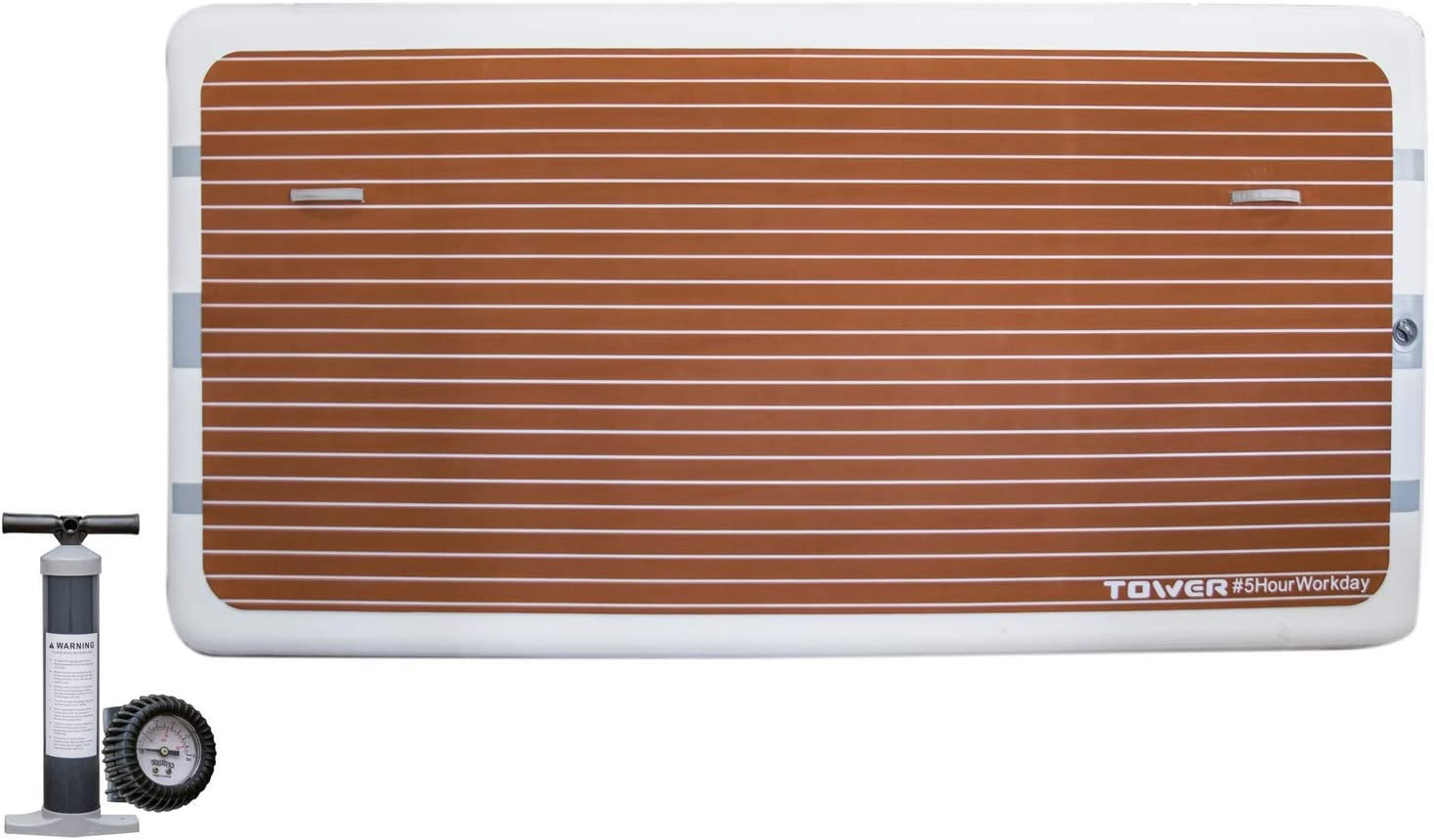 SWIM STEP FEATURES
Even though the Tower Swim Step is toted as being a floating yoga mat, it is extremely handing to use for lake or ocean parties, and several can be tied together to expand the square footage, which is 50 sq. ft. of durable, non-slip surfaced area.
As many marinas we've tied up and wanted to jump in for a swim, this would fit on our boat easily so we could toss it in the water to make jumping and and getting out of the water a breeze.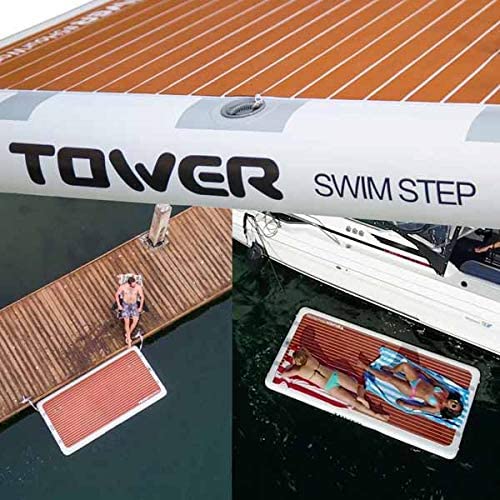 CARING & STORING
The Tower floating dock is easily rolled up into an easy to carry 5′ x 22″ round. If used in saltwater, it needs to be hosed off before storing away.  Also, do not store in direct sunlight.
SWIM STEP KEY FEATURES
SUPER STABLE (6″ THICK) – The firmest inflatable dock on the market. Tower's Dock 6 inches of thickness giving it the stability to stand on, jump on, do handstands on, and much more! It has a maximum weight capacity of 900lbs! Perfect for a cooler and all other essentials.

INFLATES QUICKLY & STORES SMALL: Dual High Pressure Valves for quick and easy inflation. Packs down to manageable 5' by 22" round.

EXTRA DURABLE – Made of the same material used in naval applications with drop-stitched and double reinforced seams to ensure longevity. Military Grade PVC, Drop Stitch Technology and EVA Foam.

GENTLE ON SKIN – Spend all day on the REEF and never worry about getting rashes from it. The material used is soft and gentle on the skin.

INCLUDES PUMP AND TWO STORAGE STRAPS – Easily inflate with the included double-action hand pump and two storage straps. Repair kit comes with patches and valve wrench (glue is to be sourced locally).

VERY STABLE: Inflates to a high-pressure 15 PSI.
PORTABLE: Weighs 59lbs.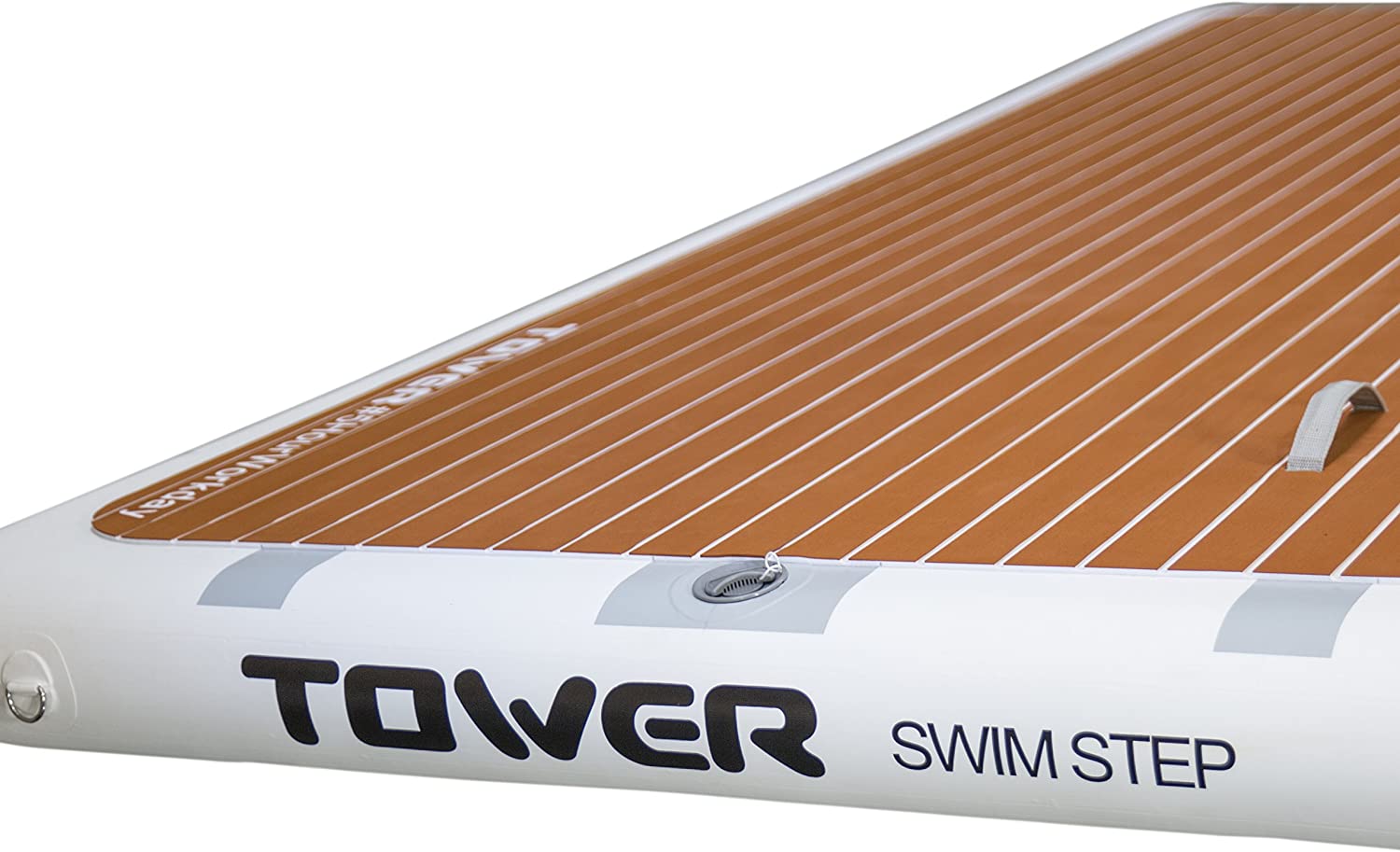 PROS
Made out of double-layered PVC, making it almost impossible to puncture!
Dogs can use the board without puncturing or damaging it with their claws.
The dimensions are more than adequate (5′ x 10′ x 6") for use as a party dock, boat extension, fishing or yoga platform.
Great substitute for swim ladders.
Can be towed empty behind the boat for easier transportability
Has 3 handles to help carry when inflated.
Includes a hand pump
CONS
Portable electric pump recommended for quicker inflation if you are constantly having to deflate and inflate the floating dock.
Final Recommendation
This is really our favorite out of all the floating party docks we've reviewed because the price is a bit better and they tend to stay in stock. Other floating party docks on our list keep selling out and we are not 100% certain of their availability. You cannot go wrong with this one though if you are looking for a dock that is easy to jump off and climb back on, can be towed behind the boat for transporting, can be inflated and deflated quickly, and has numerous versatile uses such as setting chairs and a cooler to fish and drink floating around, use as a floating beer pong table, a place to keep you belongings when on a sandbar or near the shoreline, or a surface for storing diving equipment and nets when snorkeling or scuba diving.
Your electronic devices can stay dry also while you can jump off and climb back on without everything sliding off.
Feel free to check it out at Amazon.com, and if you have any questions just ask and I will be happy to help any way I can!